Le Cercle Rouge
Director: Jean-Pierre Melville,
Screenwriter: Jean-Pierre Melville
(contains plot spoilers)

I never get tired of Melville's purity of style, his excruciating attention to details and the abstract quality of his aural and spatial world. His crime films, though an indirect tribute to Hollywood noirs, divert from them in tone, and remain extremely personal. It is clear that Melville doesn't belong to a particular cinematic tradition, however he's had a major influence on directors like John Woo, Jim Jarmusch, Martin Scorcese and Quentin Tarantino. His predominantly male world, populated by lonely characters forced to make often fatal choices, is similar in ways to 30s and 40s existentialist, Sartre plays. If Corey (Alain Delon) hadn't protected Vogel (Gian-Maria Volonte), and hadn't offered him a part in the heist he heard about from a corrupt warden in prison, he wouldn't have met such a tragic ending.

At the same time, the film diffuses a gentle melancholy and a latent sense of inevitability, and the main characters display a joyless stoicism, as if they knew that friendship, communication, self-respect, and life itself, were time-limited. Most characters appear to be both engaged in the action, and distanced from it. After Corey's phone call interrupting a frantic and surrealistic bout of delirium enhanced by a free jazz score and isolated strident sound effects, Jansen (Yves Montand) gets up and looks at his unshaven face in the mirror, both shocked by the vision of world-wariness reflected, and contemplating it. The mixture of point-of-view shots perfectly translates this duality.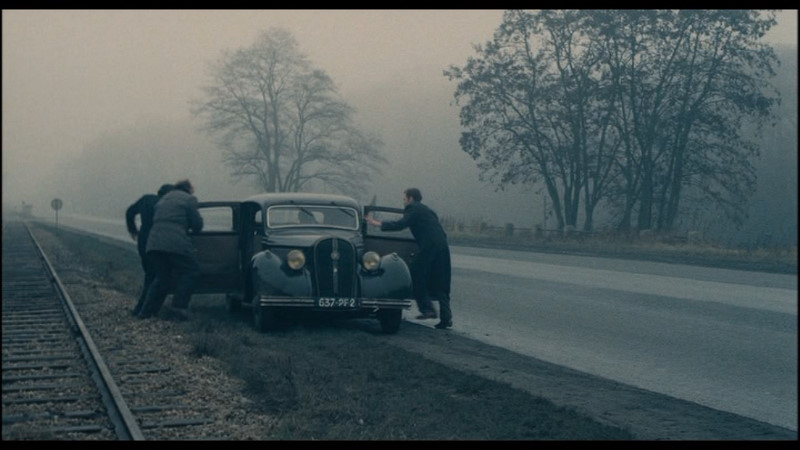 The collection of isolated sounds coupled with drained blues and washed-out greys observed from multiple perspectives create a dream-like sense of space and time. Meanwhile the austere and minute evocation of the build-up and execution of the robbery and the ritual of it, anchors the action in reality. The perfect ending, with the deaths of Corey, Vogel, and Jansen, reunites them with Commissaire Mattei (Bourvil). While their relation was impossible because of their different legal and moral codes it also shows the relativity of these codes, as Jansen, a former cop turned criminal, is on either side of the Law, and has the last word.
Screenwriter: David Lynch
DVD Distributor: Studio Canal
Watching a David Lynch movie is akin to meandering through a strange and disquieting dream. If cinema is all about illusion, then Lynch is one of its greatest magicians. Los Angeles, evoked by high angle shots of Downtown's scintillating buildings, or half-lit road signs and the ironic "Welcome to L.A.", has never looked more beautiful and disturbing. Filmed in a slow moving, fluid, and elegant motion, Lynch's mythical L.A. is a world of illusion, deceit, and broken dreams. With its opening jazz tune, its 50s songs, and its vivid colours, Mulholland Drive is a bittersweet tribute to Hollywood's Golden Age, a time when blondes where angels and brunettes were fatal. It is also a satire of a corrupt industry using and abusing people, and discarding them when they're not needed anymore.
This ambiguity is reflected within the film's dual structure. The first part works like a dream-like success story for its heroin Betty (Naomi Watts) and a sexually charged investigation into Rita (Laura Harring)'s lost identity. The second part is a nightmarish dive into a tale of unrequited love, loneliness, and despair. The two main females characters themselves shift identities and personalities. Near the end, euphoric Betty becomes a disenchanted Diane, and anxious Rita, a self-confident Camilla, but the frontier between dream and reality is always blurred by horrific or disturbing visions: a burned and dishevelled tramp lurking in the back-alley of a diner, an old couple grinning creepily, a laconic midget in a vast empty room, or an evil looking magician.

The constant opposition of vivid blue and red, and Angelo Badalamenti's hypnotic score reinforces the mystery and heightens the fear and sadness. Mulholland Drive, with its perfect ending, is the most complete of Lynch's films: Diane, hearing loud knocks at her door, and being chased by the old couple turned into tiny demons, kills herself. The shot dissolves in a puff of smoke, and a blue-haired woman, looking at the camera, whispers :"Silencio". The performance is over, the characters are back to their world of dreams, deep sleep or death, while the viewer, back to reality, faces a silent black screen.
Read Part 4 tomorrow