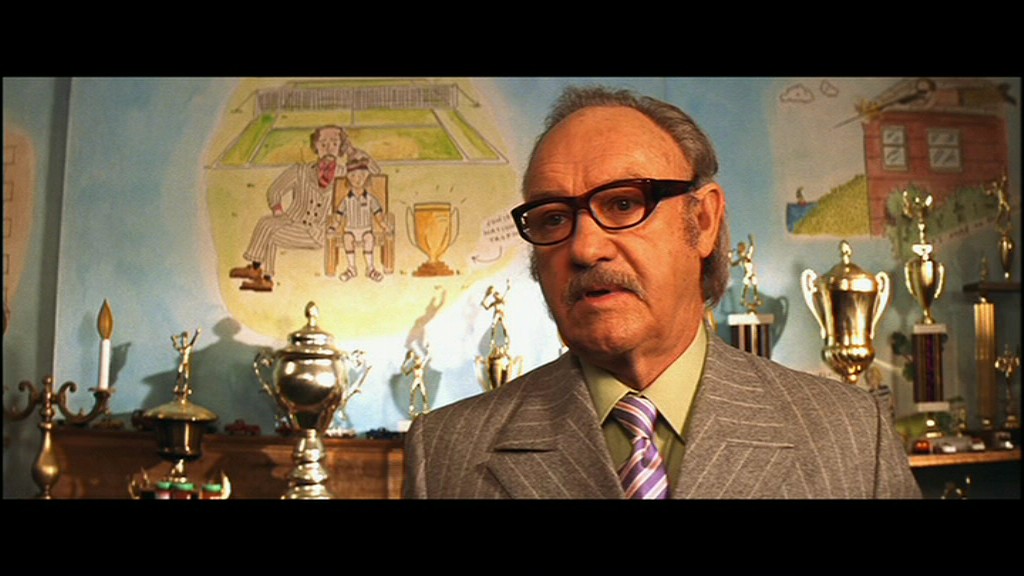 The Royal Tenenbaums
Screenwriter: Wes Anderson, Owen Wilson
DVD Distributor: Buena Vista Home Entertainment
Big-hearted family pictures packed with emotion, a suicide attempt, incest and medical fraud don't usually make for hilarious viewing, but that's why The Royal Tenenbaums is one of my favorite movies. It takes all of these very tricky subjects, like divorce, widowers with young children, interracial romance and death and somehow makes them into a tender, funny and just totally bizarre film. The first time I saw this, in the cinema with my sister, there was a feeling that it was the perfect film for me, that it was made with a deep and thorough understanding of what I found funny and what I found to be sad.
Wes Anderson's highly stylized notions may put some people off, but I love the world he paints, from pink and green set pieces to fake fingers and a table in the library. I love that his characters here are zany, and insecure, but never one-dimensional. When Royal, taking his grandsons to the cemetery to visit his mother, sees the memorial to a young man wrecked at sea, he taps his cane on the stone and says "Hell of a damn grave." I laugh at this every time, and every time am touched by the mirrored scene at the end of the film where Royal's grave is shown to have a similar inscription. I miss him when he dies, such is Hackman's characterization.
Everybody else, though dealing with their demons, all seem secondary to Royal, but manage to give subtle and exciting performances. When Anjelica Houston's character tearfully and desperately asks Royal "what are you doing?!" after he has tried to convince her that he is dying, I feel as if I've been in that situation and had reacted exactly in that way. There are so many instances of this in The Royal Tenenbaums that, coupled with the totally oddball humour, I never get tired of this film. It's like cinematic candy to me.
Screenwriter: Michel Gondry
DVD Distributor: Warner Home Video
Dreams are a hard thing to capture on film as, assuredly, everyone dreams different things in different ways. I have a very vivid and active dream life, and so when I see a film that so beautifully captures the uninhibited landscape of my unconscious I have to celebrate it. The Science of Sleep is the most recent film on my list, and perhaps because of its newness, the most affecting. When I saw it in the cinema I sat in my seat long after most others had left, completely rapt and enamoured.
The first thing I loved about this film was the atmosphere. Michel Gondry's imagination is splattered open and vivisected for all to see with his beautiful panoply of sounds, images and lights. When I saw the first "dream" displayed, I felt as if I had dreamed of big hands and paper skies, such was the purity of his vision. The lopsided cardboard city was another strangely familiar image, like a dream I had never had before but thought that I had. Visually, the dream sequences are immaculate.
The nitty-gritty of the doomed romance sequences are just as beautiful, albeit in a completely real and sensible way, and for me, just as identifiable. The way Charlotte Gainsborough is so ugly and pretty, what with her funny mouth and greasy hair, makes the funny little love story between her and Gael Garcia Bernal seem all the more genuine and confused. When she spies him, naked and wet, slipping a note under her door, she tells her best friend and they laugh about it. It's real. This happens. And unlike so many cinematic offerings these days, these weird little instances aren't glossed over. I just love how ordinary and unexceptional all the characters in this film are. They could be my friends, or people that live in my building. I certainly wouldn't notice them if they were living next door, and I love that. Real people, extraordinary story. The Science of Sleep is a delightful, beautiful, reverie of a film.
Read the final part 5 tomorrow